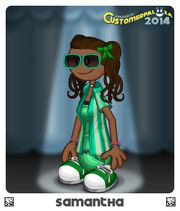 Samantha is a girl. Her favorite color is green (any form, but preferably mint green). She is from Starlight City. She debuted in Papa's Taco Mia. Her best friend is
Brittany
. They like to go exploring together. She usually gets large orders, but she is a bit skinny because she usually exercises after she eats. She also likes spicy things. Her favorite holidays are New Year (Cupcakeria), Neptunes Feast (Pastaria), Sky Ninja Returns (Donuteria), and Cinco De Mayo (Cheeseria).
Samantha's ORDERS!
Taco Mia: Steak in a Pita Taco, Tomatoes, Lettuce, Onions, White Rice, Mystery Sauce, Hot Sauce.
Freezeria: Large Cup, Yum 'n' Ms, Rainbow Sherbert Syrup, Chunky Blend, Whipped Cream, Tropical Charms, Sprinkles, Chocolate Syrup, Cookie, Gummy Onion, Cookie.
Pancakeria: French Toast with Pecans mixed in (x2), Powdered Sugar, Whipped Cream, Maple Syrup, Raspberries, Butter (x4) Large Tea w/ Ice.
Wingeria: 8 Wasabi Boneless Wings (All Around), 4 Cheese Cubes to the Left, 4 French Fries to the Right, Awesome Sauce, Zesty Peso Sauce.
Hot Doggeria: Kielbasa in a Pumpernickel Bun, Chili, Onions, Peppers, Hot Sauce, Pickle. Large Tangerine Pop, Large Ret Hot Popcorn.
Cupcakeria: Liner A, Zebra Stripe Cake, Cupcake 1: Dark Blue Frosting, Chocolate Drizzle (Flavor X Drizzle), Rock Candy (Stache Sprinkles), 3 Cloudberries (1 Candle, 1 New Year Topper, 1 Streamer). Cupcake 2: Black Frosting, Lollipop Bits (Stache Sprinkles), Creameo Bits, 3 Marshmallows.
Pastaria: Penne (Crab Mezzelune), Papa's Marinara Sauce (Venetian Vongole), Crushida Pepper (Creole Rub), 6 Meatballs (6 Anchovies), Foccacia.
Donuteria: Donut 1: Blueberry Cake, French Cruller Cutter (Pon de Ring), Cinnamon Sugar (Azuki Icing), Blueberry Custard (Hakuto Jelly), Crushed Peanuts (Boba Bubbles), Sugarplum Drizzle (Cantelope Drizzle). Donut 2: Regular Dough, Long John Cutter, Sky Blue Icing, Creameo Bits, Carmel Drizzle (Matcha Drizzle). Donut 3: Pumpkin Cake, Round Cutter (Pon de Ring), Orange Icing, Whipped Cream (Hakuto Jelly), Raspberry Bark, Vanilla Drizzle.
Cheeseria: Marble Rye Bread (Tortilla Bread), Aged Gouda Cheese (Oaxaca Cheese), Fried Egg, Peppers, Ham (Chorizo Sausage), Awesome Sauce (Guacomole). Curly Fries with BBQ Sauce & Jalepenos.