WHAT?! SOMEONE COPIED ME???!!!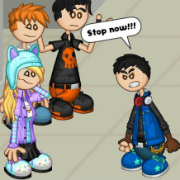 The creator of this character, Geison, claims full ownership for their characters. Please do not edit this page without their permission,at least if you are a friend of the user,you can edit the page. Thank you.
Mina is a customer Female created by Geillade12
Flipdeck Info
Hometown: Powder Point
Loves: Pancakes
Hates: Spiders
Occupation: High School Student
Mina is a girl who loves theme parks, when she was little she lived with her twin brother Mike in a very big city called Sundaepolis but when they turned 7 they had to move to Powder Point, she in the afternoon goes with her brother Sky Ninja to have fun every afternoon, she wanted live in a new place but she took so much love to Powder Point a decided to stay, now she gosa thematic park and stay forever that place.
Trivia
She is the first female customer created by Geillade12.

And the third officially.

When I was a child I lived in a city called Sundaepolis with her brother.
His age is 18 years.
Although his color scheme is Easter, he does not unlock it.
His favorite color is Lavender.
Gallery