WHAT?! SOMEONE COPIED ME???!!!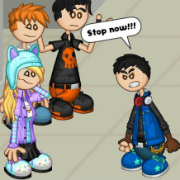 The creator of this character, Geison, claims full ownership for their characters. Please do not edit this page without their permission,at least if you are a friend of the user,you can edit the page. Thank you.
Marina is a customer Female created by Geillade12
Info
Hometown: Calypso Island
Loves: Summer Luau
Hates: Starlight BBQ
Occupation: Student
Trivia
His favorite color is Yellow
Being the older sister, the color of her hair is dark.
Usually, eat tropical food.
It is based on the character Nevada.
Gallery