Just What do you Think You're Doing,

User

?
This is property of Doremy. Please Do Not Edit Unless you got Specific Permission. However, you may edit Grammar Mistakes and Other Minor Edits.
Margie is a young woman. Her birthday is May 4, 1990, and was adopted by Brenda and Doan. She debuted in Papa's Taco Mia.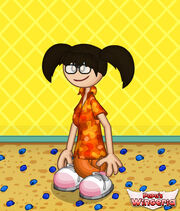 History
Margie was born on May 4, 1990. Her parents suffered  cancer, and both died. Margie was the last of her original family. She wandered around Tastyville as a baby, hoping for a home. One day, Brenda found her and adopted her. Later, Brenda married Doan. Her favorite holiday is Halloween.
Orders
Taco Mia: Hard Taco, Steak, Onions, White Rice, Brown Rice, Nacho Cheese
Freezeria: Large Cup, Marshmallows, Chocolate Cyrup, Regular Blend, Whipped Cream, Tropical Charms, Peanuts, Cherry on Top
Pancakeria: Pancake (x2), Blueberry Syrup, Raspberries, Blueberries, Small Tea, Sugar Wingeria: 8 Spicy Garlic Shrimps, 4 Fries to the left, 4 celeries to the right, Zesty Pesto Dip
Hot Doggeria: Regular Bun, Cheddarwurst, Marinara Sauce, Mustard, Ballpark Mustard, Medium Fizzo, Small Candy Jack
Cupcakeria: Liner A, Zebra Stripe Cake, Cupcake 1: White Frosting, Creameo Bits, Nutty Butter Cup (Sugar Skull), Cherry (Candy Corn), Nutty Butter Cup (Sugar Skull), Cupcake 2: Deep Purple Frosting, Chocolate Chips (Spooky Sprinkles), Strawberry Drizzle
Pastaria: Spaghetti (Vermicelli), Creamy Alfredo, Grated Parmesan (Cauldron Powder), 8 Proscuitto, Pepperoni Bread
Donuteria: Donut 1: Blueberry French Cruller, Vanilla Icing, Cookie Dough Filling (Brownie Batter), Caramel Drizzle (Peanut Butter Drizzle), Donut 2: Chocolate French Cruller (Skull), Strawberry Icing (Full Moon Icing), Mini-Marshmallows, Strawberry Drizzle, Donut 3: Vanilla Long John, Mini Marshmallows (Spooky Sprinkles)
Cheeseria: Multigrain Bread, Shredded Cheddar, Shredded Lettuce, Corned Beef, Deep-Fried Pickles (Spooky Slaw), Curly Fries with Rico's Chili
Doremy Sweet

's FCs
Major FCs
(Click to Expand/Hide)
Minor FCs
(Click to Expand/Hide)
Touhou FCs
(Click to Expand/Hide)