Just What do you Think You're Doing,

User

?
This is property of Doremy. Please Do Not Edit Unless you got Specific Permission. However, you may edit Grammar Mistakes and Other Minor Edits.
Lyndsey (Not to be confused with
Lindsay
from Total Drama) is
Angie's
daughter.

She has Chuck's DNA. She is friends with 
Bridgette
, and she hates
Heather
. Her f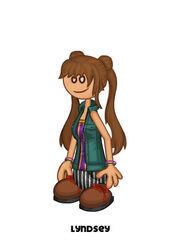 avorite holiday is Valentine's Day. She is allergic to Fish and Shellfish.
Orders
Pizza: 5 sausages all around, 5 olives all around, 2 peppers all around, bake for 10 m. 4ths
Burger: Bun, Medium Patty, Well-Done Patty, Lettuce, Ketchup, Mustard, Bun
Burger HD: Bun, Pepperjack Cheese, American Cheese, Swiss Cheese, Awesome Sauce, Medium Patty, Bun
Taco: Soft, Pork, cheese, lettuce, tomatoes, white rice, cheesem, lettuce
Sundae: Medium Mint with Yum & Ms, Regular, Whipped Cream, Chocolate Chips, Chocolate Chips, Sprinkles, 2 cherries, 1 gummi onion
Pancakeria: 2 bacon waffles, 4 butters, 4 bananas, syrup, honey, whipped cream, Small Cranberry Juice with Ice
Wingeria: 2 medium boneless, 2 green peppers, 2 celeries, 2 carrots, 2 fries, 2 awesome sauces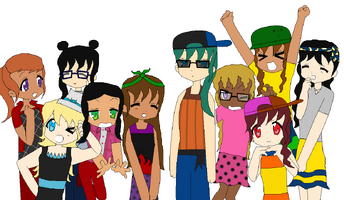 Hotdoggeria: Chicago Bun, Cheddarwurst, cheese, mushrooms, cheese, wild onion sauce, pickle, bacon, Medium Lemon Mist, Small Red Hot Popcorn
Cupcakeria: Liner D, Strawberry Cake, Cupcake 1: Violet Frosting, Strawberry Drizzle (Watermelon Drizzle), Chocolate Chips (XOXO Sprinkles), Cherry (Frosted Rose), Marshmallow (Chocolate Strawberry, Cherry (Frosted Rose), Cupcake 2: Sunglow/Yellow Frosting, Strawberry Drizzle, Coconut Shavings (XOXO Sprinkles), 3 Cloudberries (Heart Candies)
Pastaria: Ravioli (Valentini), Garlic Basil (Heartbeet Arrabbiata), Italian Seasoning (Spiced Saffron), 9 Grilled Chicken Strips (Cherry Tomatoes), Poppyseed Roll
Donuteria: ABSENT
Cheeseria: Three Cheese Bread (Beetbread), Marble Colby Cheese (Red Windsor Cheese), Mustard (Strawberry Vinegarette), Lettuce (Sun-Dried Tomatoes), Honey Mustard, Olives, French Fries with Ketchup
Doremy Sweet

's FCs
Major FCs
(Click to Expand/Hide)
Minor FCs
(Click to Expand/Hide)
Touhou FCs
(Click to Expand/Hide)