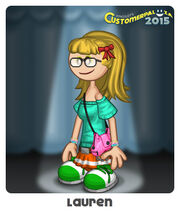 Lauren is a girl who works at The Hot Doggeria. Her best friends are Karina, Alyssa, and Katelyn. Her husband is Jacob. She likes any form of red, including pink. When she is off from Wingeria work, she works at the Hotdoggeria. When she kissed Jacob for the first time, she grew fangs and became a half-vampire like Jacob. Jacob and Lauren now are married. Hannah and Aiden are Jacob and her kids.  She is a closer in Donuteria. She is absent in Cupcakeria, Pasteria and Cheeseria. Her favorite holiday is Starlight Jubilie.She can be picky at times. Lauren also has an anorexic niece named Angelica, but Angie cured her anorexia. She used to be rivals with Angie, but Chuck told Angie that Lauren was very nice and that she wanted to be Angie's friend.
Orders
Pizzeria: PLAIN, half a meter Mins cut In 8ths
Burgeria (All 3 Versions): Bun, Medium, Ketchup, Lettuce, Bun
Taco Mia: Soft, Steak, Tomatoes, Lettuce, Peppers, Nacho Sauce
Freezeria: Medium Cup, Creameos, Mint Syrup, Smooth, Chocholate Cream, sprinkles, Creameo, Cookie, Creameo
Pancakeria: 3 Chocolate Chip Waffles,  Whipped Cream, Syrup, 3 butters, Large CJ with Ice
Wingeria: 6 calypso boneless, 12 fries, ranch     
Hotdoggeria: Pretzel Bun, Hot Dog, Ketchup, Pickle, M Purple Burple, L Kettlecorn
Donuteria: Donut 1: Regular Dough, Ring Shaped Cutter, Strawberry Icing, Rainbow Sprinkles. Donut 2: Chocolate Dough, Long John (Star Cutter), Clear Glaze (Starlight Icing), Rock Candy (Blue Star Sprinkles), Blue Moon Drizzle (Powsicle Drizzle.) Donut 3: Red Velvet Dough, French Cruller Cutter, Sky Blue Icing, Boston Cream, Mini Mallows, Dreamsicle Drizzle.
Trivia
She craves Kettle Corn
She is the custom worker version of User:904nyc904
She loves Creameos
She is a closer in Donuteria
Gallery