Just What do you Think You're Doing,

User

?
This is property of Doremy. Please Do Not Edit Unless you got Specific Permission. However, you may edit Grammar Mistakes and Other Minor Edits.

Kelvin and Ashley are Angie's twins. They are both friends with Yippy. Ashley's favorite holiday is Easter while Kelvin's is Halloween.
Ashley's Orders
Burgeria: Bun, Medium Patty, Well-Done Patty, Cheese, ketchup, BBQ, Bun
Burgeria HD:  Bottom Bun, Medium Patty, Well-Done Patty, American Cheese, Ketchup, Awesome Sauce, Top Bun.
Taco Mia: Soft, Steak, guacamole, verde sauce, jalapenos, tomatoes, loco sauce
Freezeria: Small Cup, Marshmallows, Mint Syrup, Smooth, Chocolate cream, sprinkles, chocolate syrup, 3 creameo
Pancakeria: 2 chocholate chip waffles, chocolate chips, whipped cream, maple syrup, 4 butters Large OJ with ice
Wingeria: 8 atomic boneless, 6 carrots to the right, 6 fries to the left,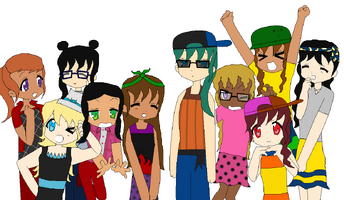 Hotdoggeria: Pretzel Bun, Kielbasa, hot sauce, salsa, ketchup, pickle, Small Hyper Green, Large Cotton Puffs
Cupcakeria: Strawberry Cake, Liner C.
Cupcake 1: Teal Frosting, Lollipop Bits, Jelly Beans (Sprinkles), 3 Cloudberries.
Cupcake 2: Pink Frosting, Rock Candy, Cotton Candy (Chocolate) Drizzle, 3 Marshmallows.
Kelvin's Orders
Pizzeria: 6 sausages, 3 olives, 4th of a meter, 4ths
Burgeria: Bun, Medium Patty, cheese, mayo, onion, lettuce, onion, Bun
Burgeria HD, 2nd onion replaced with onion ring
Taco Mia: Pita Taco, Chicken, cheese, black beans, brown rice, loco sauce, sour cream, jalapenos :)
Freezeria: Small Cup, Marshmallows, Vanilla Syrup, Regular, cream, sprinkles, chocolate chips, butterscotch, nuts
Pancakeria: 3 blueberry pancakes, 3 butters, syrup, blueberries, chocolate chips, 3 bananas,  Small Milk with Cocoa
Wingeria: 4 parmesan boneless, 4 cheese cubes, 4 fries, 3 awesome sauce, 1 kung pao dip
Hotdoggeria: Pumpernickel roll, cheddarwurst, chili, salsa, hot sauce, pineapple relish, wild onion sauce, Medium Fizzo, Medium Red hot popcorn
Cupcakeria: Kiwi Cake, Liner A, Black Frosting, Licorice (Vanilla) Drizzle,  Sprinkles, Boo Sprinkles, 3 Nutty Butter Cups.
Doremy Sweet

's FCs
Major FCs
(Click to Expand/Hide)
Minor FCs
(Click to Expand/Hide)
Touhou FCs
(Click to Expand/Hide)