Just What do you Think You're Doing,

User

?
This is property of Doremy. Please Do Not Edit Unless you got Specific Permission. However, you may edit Grammar Mistakes and Other Minor Edits.
Julianna is a Polish-American girl. She plays the snare drum, the piano, and the violin. Her best friends are Alyssa and Lauren. She debuted in Burgeria.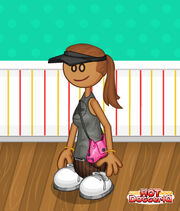 Bio
Julianna Grew Up in Burgerburgh. She loves music, and plays piano, drum, and violin. Sometimes she experiments with other instruments, but the results are often... interesting. When she's not playing music, she likes playing Minecraft.
Orders
Burger: Bun, Medium Patty, Ketchup, Lettuce, Pickle Pickle, Mustard, bun
Burger HD: Bun, Medium Patty, Ketchup, Lettuce, Mushrooms, Pickle, Bun
Taco:Soft, Pork, lettuce, nacho sauce, jalapenos, pinto beans, brown rice, verde sauce, guacamole
Freezeria: Large Cup, Creameo Bits, Vanilla Syrup, Regular, Cream, nuts, blueberry topping, butterscotch topping, banana in the middle
Pancakeria: 3 Pecan Toasts, syrup, blueberry syrup, cinnamon, sugar, 3 butters, Large Milk with Cocoa.
Wingeria: 6 atomic shrimps, 10 green peppers, 4 awesome sauces
Hotdoggeria: Bun, Keilbasa, ketchup, mustard, pineapple relish, hot sauce, Medium Lemon Mist, Large Kettlecorn
Doremy Sweet

's FCs
Major FCs
(Click to Expand/Hide)
Minor FCs
(Click to Expand/Hide)
Touhou FCs
(Click to Expand/Hide)