Harry is Mr. Pepper's assistant.  He is in charge when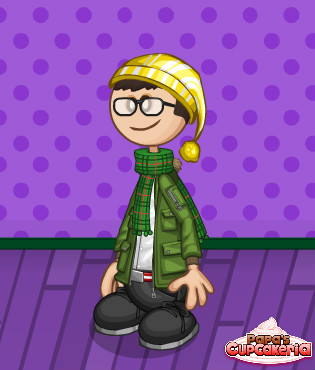 Mr. Pepper is gone. He was also close friends with Patrick. He was also working for Quinn at night. He was adopted by Mr. Pepper. He is rivals with Mitori Kawashiro because of being grounded for 1 week. It is because she prohibited his orders.
He is also a worker at Cupcakeria.
Family History
When Harry's parents died in a brutal murder, he quit school and entered a lot of work until he was found by Mr. Pepper and Mrs. Cherry working on the junkyard. Then, he was adopted by them and enrolled in a prestigious school. When he was 15 years old, he was offered to work on Dr. Pepper Corp. He accepted it quickly. He was first a delivery guy, then he was promoted to Mr. Pepper's assistant. 
Orders
He orders the same as Mr. Pepper. See here:
Ranks to unlock
Pizzeria-Cupcakeria: Before Mr. Pepper (Challenging)
Pastaria: Random day customer
Trivia
He always comes with Mr. Pepper due to his job (see above)
His waiting score is also glitched, but a different one. It always display 100% (even if you have served him late).
He is also VERY hard to please.
Fav. Holiday (Cupcakeria)
His fav. holiday is Starlight City Jubilee.
PLSP:TVofFC!
How to unlock:
Unlocks on Bacon Village-2. Requires Explosive.
Weapon:
He wields Tip Jar Bombs. Kills multiple baddies because of the glass fragments. Also sends a huge Tip Bomb that explodes into smaller Tip Bombs. Sends 10-15 Small Tip Bombs that roll and kill baddies that hit them. Could also destroy weak blocks.Fragments lasts for 5 seconds. Huge Tip Bomb explodes for 3 seconds. All hurts when touched. Small Tip Bombs kill one baddie per Tip Bomb.
Skill:
He has an Explosive Skill (because of the tip bombs) and Glide Skill (he uses his scarf)