Just What do you Think You're Doing,

User

?
This is property of Doremy. Please Do Not Edit Unless you got Specific Permission. However, you may edit Grammar Mistakes and Other Minor Edits.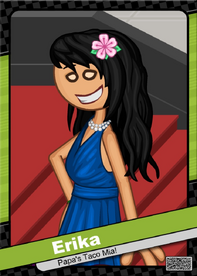 Erika is a woman. She is a model and actress. She first appears in Papa's Taco Mia. Her favorite holiday is Halloween. She is half-Korean half-Pakistani
Flipdeck Info
Erika is a famous model hailing from Tacodale. She loves trying out new outfits, and is working on a fashion line. After a premier, she is followed by the paparazzi. Sometimes she wants to escape it all with a trip to Papa's Restaurants
Biography
When Erika was young, she was very different from the girl she was today. She grew up in Oniontown, and was the brattiest, and immature girl in town. When she got to middle school, she started bullying others so harshly, and everyone in town was afraid of her. During the summer, she moved to Tacodale, and she entered high school scared of others. So she fixed herself up a bit and became one of the most beautiful and nice people in town.
Orders
Taco Mia!: Soft Taco, Chicken, Onions, Loco ? Sauce, Lettuce, Black Beans
Freezeria: Small Cup, Marshmallows, Vanilla Syrup, Smooth, Chocolate Whipped Cream, Chocolate Topping, Nuts, Creameo, Banana, Creameo
Pancakeria: Blueberry Pancake (2x), Raspberries, 5 Strawberries, Blueberry Syrup, Large milk with Cocoa
Wingeria: 3 Teriyaki Boneless to the left, 3 Wild Onion Strips to the Left, 6 Carrots to the Right, 3 Awesome Sauce Dips
Hot Doggeria: Chicago Bun, Cheddarwurst, Mustard, Chili, Cheese, Mushrooms, Wild Onion Sauce, Large Dr. Cherry, Medium Cinnamon Swirl
Cupcakeria: Liner B, Lemon Cake, Cupcake 1: Sunglow Frosting, Rock Candy, Chocolate Drizzle (Licorice Drizzle), Cloudberry in the Middle (Candy Corn), Cupcake 2: Pink Frosting, Strawberry Drizzle, Strawberry Drizzle, 3 Marshmallows (Candy Jack-o-Lantern)
Pastaria: ABSENT
Donuteria: Donut 1: Vanilla French Cruller (Skull), Red Icing, Blackberry Jelly (Brownie Batter), Mini-Marshmallows, Vanilla Drizzle (Peanut Butter Drizzle), Donut 2: Blueberry Ring, Vanilla Icing (Full Moon Icing), Lemon Chiffon, Rainbow Sprinkles (Spooky Sprinkles), Donut 3: Chocolate Round, Strawberry Icing, Strawberry Drizzle (Peanut Butter)
Cheeseria: Rosemary Foccacia, Marble Colby Cheese (Monster Muenter), Wild Onion Sauce, Wild Onion Sauce (Jackomole), Jalapenos, Salami, Sweet Potato Wedges with Fry Seasoning
Gallery
Doremy Sweet

's FCs
Major FCs
(Click to Expand/Hide)
Minor FCs
(Click to Expand/Hide)
Touhou FCs
(Click to Expand/Hide)