Just What do you Think You're Doing,

User

?
This is property of Doremy. Please Do Not Edit Unless you got Specific Permission. However, you may edit Grammar Mistakes and Other Minor Edits.
Annie* is a girl who is a worker in the wingeria. She is a gamer girl, and she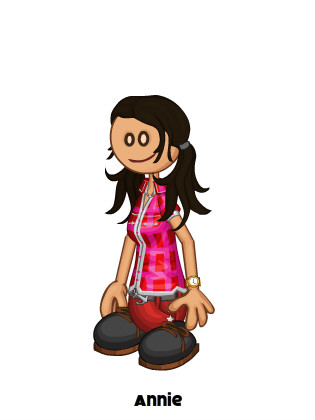 LOVES Minecraft, as well as many other games, console and PC. She plays Minecraft with
David
. She first appeared in Papa's Pizzeria. She was a closer in Papa's Freezeria.
Orders
Pizzeria: 8 Pepperonis all around, 4 Sausages to the left, 4 Mushrooms to the right
Burgeria: Bottom Bun, Tomato, BBQ Sauce, Medium Patty, Cheese, Lettuce, Top Bun
Taco Mia: Pita Bread, Pork, Guacamole, Onions, Brown Rice, Sour Cream, Jalapenos
Freezeria: *CLOSER!* Large Cup, Pineapple, Mint Syrup, Smooth Blend, Whipped Cream, Blueberry Topping, Nuts, Chocolate Chips, Cookie, Creameo, Banana
Pancakeria: Pancake, 4 slabs of Butter, Blueberry Pancake, Raspberries, Honey, Cinnamon, Whipped Cream, Small Decaf with Cocoa (Mocha!!)
Wingeria: ABSENT :(
Hot Doggeria: Hoagie Roll, Keilbasa, Chili, Hot Sauce, Relish, Bacon, Pickle, Small Hyper Green, Small Candy Jack.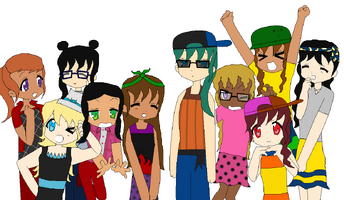 'MORE ORDERS COMING SOON'
Trivia
Her name was originally Sienna, but this was changed because a customer named Sienna was introduced in Papa's Pastaria.
Doremy Sweet

's FCs
Major FCs
(Click to Expand/Hide)
Minor FCs
(Click to Expand/Hide)
Touhou FCs
(Click to Expand/Hide)