Alyssa is a girl who is an expert at being awesome. Her best friends are Lauren.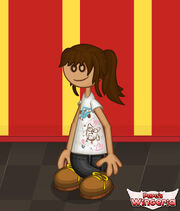 and Julianna. Right now, she is having an awesomeness race with
Daniel
.
Burger: Bun, 3 medium patties, cheese, mustard, bun
Taco: Steak in a Hard Taco, jalapenos, cheese, loco sauce, black beans
Freezeria: Large Cup, Marshmallows, Rainbow sherbet syrup, whipped cream, butterscotch, tropical charms
Pancakeria: 3 pecan pancakes, strawberry(x2), Syrup, Large Milk with cocoa
Wingeria: 4 Wasabi shrimps left, 4 honey mustard strips right,  4 green peppers left, 4 green peppers right, blue cheese dip.
Hot Doggeria: pretzle bun, kielbasa, relish, wild onion sauce, pineapple relish, hot sauce. Small Dr,Cherry and Small Cheddar Corn.
She is very picky.